Cricket Academy in Faridabad
The SledgeHammer Cricket Academy (SHCA) seeks for and develops India's best cricketing potential. We operate with the express purpose of developing and preparing people for future difficulties by giving them the best cricket instruction, cutting-edge cricketing facilities, and an excellent opportunity to learn and discover more about the game from trained instructors. 
Our goal is to find young people and provide them with the chance to learn new skills and enhance their leadership qualities, which will ensure their entire development as a cricket player and a person. Our coaches are actively involved in all aspects of the on-field team's operations. 
Since coaching methods are passed down from one generation of coaches to another, learning the plays and strategy of the game involves a certain set of skills.

Dedicated training, representation at state and national level
Coaching program designed to meet the needs of women cricketers.
Various programs for different age groups like under 15/19/23 level.
SERVICES OF OUR CRICKET ACADEMY IN FARIDABAD
In all of our running academies, we have 2 to 4 acres of space for practice, including 5 to 10 pitches with lighting.
We provide certified coaches in all age group + ex cricketer visits. 
We have all BCCI affiliated age groups like under 14,16,19,22,25 .
With different timings of batches 3:pm to 7.30 pm .
We also organize international and domestic tours for kids and corporate players to get maximum experience and exposure.
A few of the players in our academy have already competed for their school and state at various age levels
COACHES'S PROFILE OF OUR CRICKET ACADEMY
Head Coach Of Mantor Cricket Academy
Mantor Just Sports best Cricket Academy in Faridabad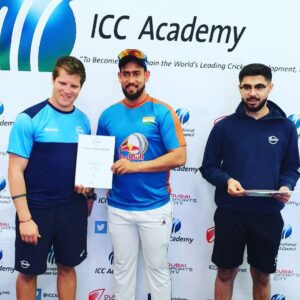 Sports Academies – Sector 11-D and Sector 21-A Faridabad Haryana