Best Cricket Academy in Faridabad
Welcome to Mantor Just Sports Academy, the premier Cricket Academy in Ballabgarh, Faridabad. We are dedicated to providing top-notch Cricket Coaching, Classes, and Training to aspiring cricketers of all ages and skill levels.
At Mantor Just Sports Academy, we believe in nurturing talent and shaping individuals into exceptional cricketers. Our experienced coaches provide personalized guidance and expert training techniques to enhance your skills, whether you're a beginner or a seasoned player.
Located in the heart of Faridabad, our cricket club offers state-of-the-art facilities and a supportive environment for players to thrive. We focus on developing all aspects of the game, including batting, bowling, fielding, and strategy, through structured coaching programs.
If you're searching for the best cricket academy near you, look no further than Mantor Just Sports Academy. Join us today and unleash your cricketing potential. Experience the joy of playing cricket while honing your skills in a professional and competitive setting. Contact us now to get started on your cricketing journey.

Dedicated training, representation at state and national level
Coaching program designed to meet the needs of women cricketers.
Various programs for different age groups like under 15/19/23 level.
SERVICES OF OUR CRICKET ACADEMY IN FARIDABAD
In all of our running academies, we have 2 to 4 acres of space for practice, including 5 to 10 pitches with lighting.
We provide certified coaches in all age group + ex cricketer visits. 
We have all BCCI affiliated age groups like under 14,16,19,22,25 .
With different timings of batches 3:pm to 7.30 pm .
We also organize international and domestic tours for kids and corporate players to get maximum experience and exposure.
A few of the players in our academy have already competed for their school and state at various age levels
COACHES'S PROFILE OF OUR CRICKET COACHING
Head Coach Of Mantor Cricket Academy
Mantor Just Sports best Cricket Training Classes in Faridabad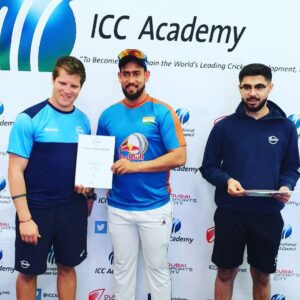 Sports Academies – Sector 11-D and Sector 21-A Faridabad Haryana